CHRIS JOHNSON'S STRONG FRAME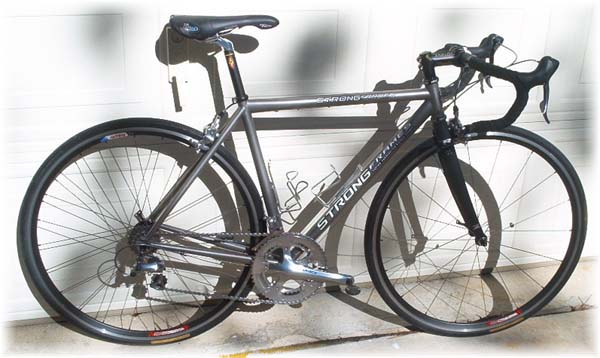 Here is a photo of my new Strong Custom Ti for the "road" category in the gallery. It arrived in early December 2003 and I have been extremely pleased. It is amazing how well Carl absolutely nailed the ride characteristics and fit. I have been riding a LeMond Zurich for over 5 years and thought the fit was just fine until Carl's creation arrived. I am now enjoying a whole new level of comfort and performance that I couldn't even imagine before. The craftsmanship is incredible. To be honest, its a little frightening how much I find myself just staring at the bike. The photo doesn't do it justice. Maybe I can send a better one later.
My Strong has custom geometry 6/4 ti, Reynolds Ouzo Pro light fork, DuraAce 2004 10-speed components, and Dave Thomas' Speed Dream wheels.
My original plan was to save money and buy the "old" DuraAce 9-speed components, but decided this is my dream bike and I would go all the way. I am very pleased with the comfortable new brake hoods and the silky smooth shifting. Having that extra cog is nice too.

RETURN TO PHOTO GALLERY HOME
The CyclingForum website is made possible by the generous support of its member donations and pledges.
If you enjoy this cycling site, please consider supporting it - thank you!

HOME | CLUBS | SPONSORS | SPECIAL FEATURES | PHOTO GALLERIES | TTF DONORS | SHOP FOR GEAR
© 1998-2009 - CYCLINGFORUM.COM - "WHERE CYCLISTS TALK TECH"
BOULDER, CO USA
1+303 256.4657